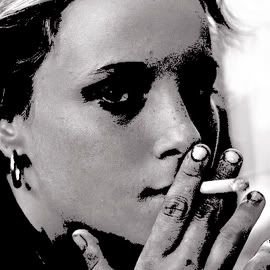 Di
Cool +1
*
, Hard =0, Hot +1
*
, Sharp +3, Weird -1
With a compact figure concealed in layers of clothing, it's not immediately obvious whether she's a girl or not. Her hair is cut short, either allowed to form short curls or shaved down to the scalp against parasite infection, and that only furthers the initial confusion. But her face is always lively, with bright eyes and a free smile.
She wears layers of loose, casual clothes, tending toward cargo pants with bulging pockets and heavy sweaters to ward off the chill fog. A sizable utility knife (2-harm hand) is usually strapped to her leg, and the equipment of her profession is variously belted on, sorted into pockets, and pinned into the lining of her coat - one of a rotating cast of fireman's coats, parkas, and oversized leather jackets (1-armor).
If she loses a few layers, she's revealed as a pretty young woman, slim and with some grace, and the t-shirts and tank tops that make up her bottom layers reveal the spiraling black tattoos running up her arms from wrist to bicep, signifying nominal membership in certain of the raft gangs that work the river. [1-barter, 2-stock]
- History -
Gritch =0, June+1, Marlene =0, Navarre -2, Sketch -2, Spector +1
Angel special: If you and another character have sex, your Hx with them on your sheet goes immediately to +3, and they immediately get +1 to their Hx with you on their sheet. If that brings their Hx with you to +4, they reset it to +1 instead, as usual, and so mark experience.
Angel kit: To use it to stabilize and heal someone at 9:00 or past: roll+stock spent. On a hit, they will stabilize and heal to 6:00, but the MC will choose 1 (on a 10+) or 2 (on a 7–9):

• they need to be physically stabilized before you can move them.
• even narcostabbed, they fight you; you're acting under fire.
• they'll be in and out of consciousness for 24 hours.
• stabilizing them eats up your stock; spend 1-stock more.
• they'll be bedridden, out of action, for at least a week.
• they'll need constant monitoring and care for 36 hours.

On a miss, they take 1-harm instead.

To use it to speed the recovery of someone at 3:00 or 6:00: don't roll. They choose: spend 4 days (3:00) or 1 week (6:00) blissed out on chillstabs, immobile but happy, or do their time like everyone else.

To use it to revive someone who's died (at 12:00, not beyond): roll+stock spent. On a 10+, they recover to 10:00. On a 7–9, they recover to 11:00. On a miss, you've done everything you can for them, and they're still dead.
Battlefield grace: while you are caring for people, not fighting, you get +1armor.
Infirmary: you get an infirmary, a workspace with life support, a drug lab and a crew of 2 (Jackson & Mox). Get patients into it and you can work on them like a savvyhead on tech.
Professional compassion: when you help someone who's rolling, you can choose to roll+sharp instead of roll+Hx.
Touched by death: whenever someone in your care dies, you get +1weird (max +3).
Some Fool Done Gone and Fucked Up
A ReliC Out of Time
The Facility, June and Di
[-] get +1sharp (max sharp+3)
[ ] get +1cool (max cool+2)
[ ] get +1hard (max hard+2)
[ ] get +1hard (max hard+2)
[ ] get +1weird (max weird+2)
[-] get a new angel move (battlefield grace)
[-] get a new angel move (professional compassion)
[ ] get 2 gigs (detail) and
moonlighting
[ ] get a move from another playbook (*)
[ ] get a move from another playbook (*)
[ ] get +1 to any stat (max stat+3)
[ ] retire your character (to safety)
[ ] create a second character to play
[ ] change your character to a new type
[ ] choose 3 basic moves and advance them
[ ] advance the other 4 basic moves
* bonefeel, deep brain scan, fingers in every pie, frenzy, reality's fraying edge, pit bull, visions of death