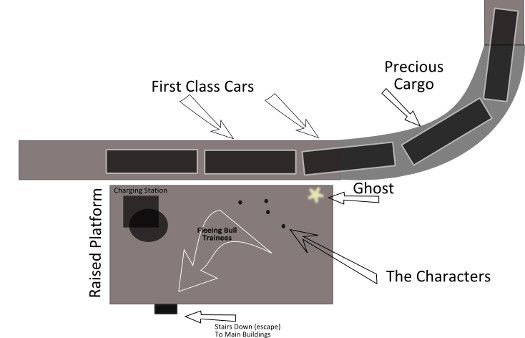 Booker (Polonia)
A screaming bull smashes into your right shoulder as he runs in terror. You spin but you keep your footing. The ghost remains entangled in the electrical field of the train, yet it managed to strain away from the line and reach over to kill your trainer. It shrieks and fights but it wants something with that corpse.
You are near the platform edge, but closer to the engine than that second first class car where the ghost emerged. Infact, the doors of the first class cars pop open and suddenly a river of rich, screaming passenger pours out. The electrical shield snaps about them. The flow of people obscures your vision, you can't see what the ghost is doing.
Who do you notice in the crowd? A noble, right? Or is it someone else? What are they doing that is so suspicious?
You are in your Anchor gear. What does that look like. Each person usually custom modifies their encounter suit, what features do you use?
Haig(Arcy)
Of all the Bulls that didn't bolt, you were the one closest to the killing. You have the best perspective on this ghost. What does it look like? It is large, almost seven feet tall. And, through it's transparent body you can get the vague sense of something, or someone, perhaps another ghost, in it's stomach, what is in there? It is moving, that is for sure. What does it look like?
Brogan(Adric)
You were also quite close to the carnage. You watch as the ghost continues to fight the tendrils of electricity as it mauls the body of your trainer. But as you watch you notice it has started searching the body. Rifling through her coat and gear. What does it find?
You have your lightning hook in hand, charged and ready to go. What does that look like? What makes your lightning hook unique to you?
McKeel(Arden)
You are in the middle of a swarm of running bulls. You sidestep out of their way but it is hard to make sense of what is happening. You hear the conductor of the train screaming something. He yells it out to the crowd, but nobody is listening. He seems quite upset. You turn and look at him, you make eye-contact and he yells right at you.
What bad news does he shout? Does he offer instruction? A warning?
>Who wants to lead the Bulls and make the roll?